Renice 6U VPX single board computer complies with the OpenVPX Vita65-2010 specification. Onboard INTEL I7 4-core processor, clocked at 2.8GHz and can be up to 3.5Ghz and chipset with Intel QM170. It also designed the BMC chip on board that support IPMI 2.0 standard local/remote status monitoring,module health management and online firmware upgrade. Renice 6U VPX conform to 6U Open VPX (VITA-65) standard (VPX interface signal definition conforms to ANSI/VITA 46.0- 2007 specifications, mechanical dimentions in accordance with ANSI/VITA 48.0-2010) and compatible with both industrial and Rugged standards on the structure.
With 7 sets 10/100/1000M network,PCIe 16,PCIe X8, USB and DVI etc interface, the mother board supports strong overall performance, high stability and various of interface that is suitable for the calculation and processing centers of various compatible industrial and military computers.6U VPX computer can be used in the VPX chassis with VPX backplane that meet with OpenVPX ANSI/VITA 65-2010 specification.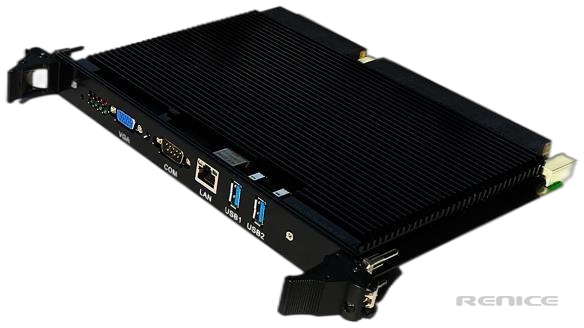 Performance
● 6U VPX Signal Board Architecture:Complies with OpenVPX Vita65-2010 specification
● System configuration:Intel i7-6820EQ processor(4 core,2.8GHz)、QM170 chipset and 16GB DDR4 memory
● Muti-lane SATA Interface:5 lane,support system boot and storage expansion etc
● Multiple high-speed network interfaces: Provide 7xGigabit Ethernet interfaces and 1x10 Gigabit Ethernet port
●
Completed interface: VGA, DVI, USB, serial interface, GPIO, audio and other interfaces
● Intelligent monitoring and management: BMC intelligent monitoring, support IPMI 2.0 standard local / remote status monitoring, module health management and online firmware upgrades
● Support a variety of operating systems: support vxWorks, windows7 and so on.
● Industrial working temperature: .-40 to 85℃
Specification
1.1 Environment
Items

Description

Note

Operation Temp

-40 ~ +85℃




Storage Temp

-50~ +100℃




Humidity

95%




Vibration

5HZ-2000HZ,1.5rms(work status) ;


2Grms 20-2000Hz, (non-work status)



Shocking

20G , 11ms(work status);

30G,11ms (non-work status)



1.2 Electricity
| | | |
| --- | --- | --- |
| Items | Description | Note |
| Voltage | 12V | |
| Typical power consumption | <70W | |
| Heat dissipation mode | Conduction、Cold Cooling | |
1.3 Mechanical
Items

Description

Note

Color

Black



Shape

6U VPX Single board architecture:complies with
OpenVPX Vita65-2010



1.4 System Configuration
| | | |
| --- | --- | --- |
| Items | Description | Note |
| Processor | Intel i7-6820EQ(4x 2.8 GHZ , Up TO 3.5 GHZ ,45W | CPU use Solder Down |
| Chipset | Intel QM170 | PCH use Solder Down |
| Memory | On board dual channel ( 8GB/channel ) | Memory use Solder Down |
| Graphics | CPU integrated Graphics | |
| Operation System | vxWorks、windows7 | |